hmmm...
So I have finally completed Ace's route.
And to sum it up....
Ace is really a
yandere, psycho,
but I still love you very much <33333
okay, i have weird taste....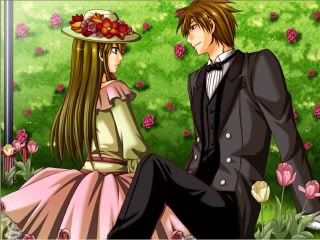 Before I start, just bear in mind to go through Ace's route, it takes about 6-8 hours, so I will not be able to go into details but just more a quick summary with lots of pictures xD
For those that are playing this game and may need help with walkthrough, just remember the below points. In order to get a love ED with the character, you must
Stay at the same place with the character

Visit them frequently to up the affinity and of course to allow events to happen

You also must visit Joker regularly as he is the key to activate the events of the bishie you are going for.

You must have to have seen all 18 events of the bishie you are going for by turn 198, and also joker's 10 events to be able to reach a good ED.
For those that have played Heart or Clover Ace routes will know what I am talking about, but for those that haven't, please be aware that…
Ace route is filled with sexual harassment and OMG THIS IS NOT FOR CHILDREN type of scenarios…RIGHT FROM THE VERY START! So do not read if you feel offended by sexual remarks and scenes in the below summary
(
Collapse
)